Whisper It….But Do the Reds Really Need Coutinho?
For anybody who witnessed it, Liverpool's 4-2 win over Hoffenheim on Wednesday evening was memorable for a couple of reasons, and while qualification for the Champions League proper was the obvious highlight it has to be said that the Reds' attacking play was as exciting as it has been in decades.
Quite the accolade to compare this set of players to the likes of Rush, Dalglish, Beardsley and Barnes, but the current front three of Sadio Mane, Roberto Firmino and Mo Salah look capable of scoring goals almost at will whenever they combine on the field.
And so it has proven, to an extent. In four competitive fixtures this season so far, Liverpool have notched ten goals with six of them coming from either Mane, Firmino or Salah, and while it will be difficult for them to keep up such output across a whole campaign the early signs are incredibly encouraging.
And to think they've done this without a midfield orchestrator is all the more impressive. Adam Lallana is injured of course, while Philippe Coutinho – so often the Reds' go-to guy last season – is either injured or sulking, depending on whose version of events you believe. When Lallana returns, Liverpool will have a front four that will be the envy of all in world football.
So what is it about this holy trinity of attackers that is working so well?
Chances Make Prizes
If you don't shoot, you don't score: that's the kind of tired cliché you hear belted out on village parks throughout the land by well-meaning junior coaches and hungover Sunday League players.
There is an element of truth to that of course, but context is everything and the right kind of shot is the key.
The new stat phenomenon, Expected Goals, is taking over how we understand the beautiful game – even the dinosaurs on Match of the Day have started to use it. This determines how many 'good' chances a team is creating based upon where they are shooting on. Expected Goals uses historical data to determine how successful a shot is likely to be based upon similar shots in the data set.
In essence, a shot from the central third of the penalty area, i.e. if you extended the vertical lines of the six-yard box to the edge of the 18-yard box, yields more goals than teams shooting from all manner of distances and angles. Close and central is the key to success.
Below are two shot graphics, reproduced from visuals created by the outstanding WhoScored, which show Liverpool's outings against Hoffenheim and Crystal Palace:
On both images Liverpool are highlighted in orange, and the dots highlight exactly where the Reds have been shooting from.
As you can see, the two images are almost identical, and reveal that Liverpool are firing countless shots at goal from that all-important central zone of the penalty area. That means we're creating chances and, more importantly, scoring goals. We may only have beat Crystal Palace 1-0, but the underlying story there is that it could have been six!
So how are the boys are able to fashion so many high quality chances?
Pass to Mane on the Left-Hand Side
Last season Jurgen Klopp was fairly settled in his team selection. He'd play the same 4-3-3 system, with Firmino through the middle, Mane stationed on the right flank and Coutinho directing traffic from a kind of inside left channel.
Without the Brazilian, Klopp has needed to find a new conductor – and rather than scour the transfer market he's realised that he's already got his man: Sadio Mane. By switching the Senegalese ace to the left-hand side, he has freed him up to cut inside at will. With Mo Salah drifting in from the right on his stronger left foot, and Firmino given more freedom to roam from his central position, it has left to absolute chaos unravelling in opposition defences.
Here are the heatmaps from the Hoffenheim game, reproduced thanks to the good folk at SofaScore:
As you can see, there's a certain fluidity to proceedings, with Salah dropping deep to collect the ball and Firmino given almost free rein to express himself. Mane has, by and large, held his position, and that's because his role as attacking outlet is pivotal to this side.
Here's where the chances were created from on Wednesday evening: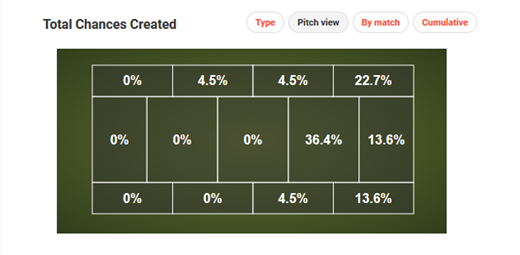 As we can see, Mane and Firmino dominated the game.
Refer back to the heatmap graphic and look at those stats: our holy trinity of attackers delivered six shots on target between them, two goals, two assists and two other big chances missed. And that's from a single 90 minutes!
The signs, however early, are almost overwhelmingly positive for the season to come.